This will be a hard one – or easy one, not really sure about it myself yet. But I can say I am a little bit of a shopping addict, I just love buying clothes and unfortunatelly I do "rash" shopping, also I tend to end up at H&M and I am pretty sick of Vienna's uniform (H&M) – and that's what I want to change or limit. But what is my actual point? Well I had the idea to have a determined clue what you want to buy within a season (i.e. 6 months in the fashion world). And there are a lot other bloggers who started to take up this idea a while ago – it's called 5 piece French Wardrobe.

source: www.whtvr.dk
5 Piece French Wardrobe
The principle behind the 5 Piece French Wardrobe is only buying 5 timeless and higher quality pieces within one season of the year – this means 10 items of clothing a year. It is supposed to be orientated at the classic, simple and timeless style of French women and aimes to build a solid classy wardrobe.
The Rules
Basics don't count – white tees etc. are always allowed
shoes do count – except if they fall apart or have to be replaced
accessoiries don't count, except if they cost a lot more than usual
socks and underwear doesn't count
the rest does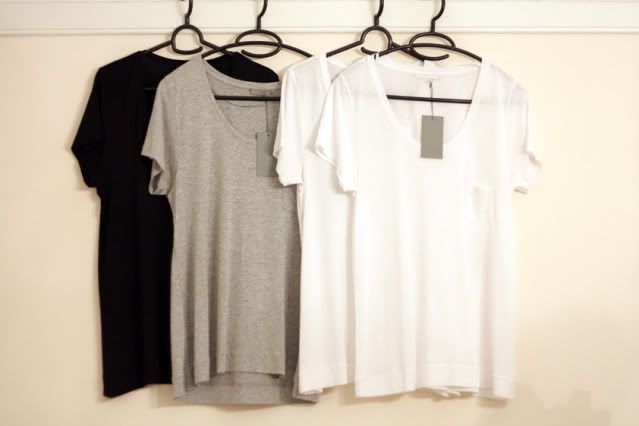 source: afterDRK
What is also needed…
The basics – you won't be able taking part in that "experiment" without having a solid basic wardrobe. But what exactly is a solid basic wardrobe?
Well, afterDRK has the solution – in the following is noted what a basic wardrobe should consist of – the grey lettered ones I have already.
tops:
Black, grey and white loose t-shirt
Black, grey and white tanktop
Little black t-shirt dress, also in white
White or cream blouse, I would recommend getting it in silk Black blazer Chunky cardigan Simple jumper
trousers//skirts: Black skinny pants Skinny jeans Black skirt Shorts
jackets:
Leather jacket Trenchcoat Wool wintercoat
shoes:
Black pumps
Ankle Boots Ballerinas/ Sneakers
accessoires:
Gold or silver watch
Black leather bag
The Wishlist
In the following, I put together a wish/want/need list – consisting of 20 pieces. Definitely too many for the 5 Piece French Wardrobe, but as some of the items are rather reasonable in price, others can be diy'd or count as basic wardrobe items – I will be able to cut the list down a bit.
For one the Turband and 1991 shirt can be made into a DIY project, the reasonable things would be the Asos necklace, H&M lace top & striped tights. Some basic wardrobe pieces have crept into my list too like the shorts and bandeau. The creepers count more to next season's list – so I can tick them off for the time being.
Kat's 5 Piece French Wardrobe List

high waisted jeans (Cheap Monday)
Casio Watch
Hat
wedges
"blouses" – I'm cheating a bit here
My goal
My goal of this whole experiment is to limit myself better, to buy more deliberate and forward-thinking. Another thing I want is to find my very own style, which I always had but I want to be more consistent within my style. I tried to figure out in which clothes I feel the best in, I wear most  and are the most versatile to combine. As you might have already noticed Alsion Mossheart's basic style is a big influence – music in general and thats why my favourite clothes are either dark, denim, lace, leather, velvet or sheer. The most important in fashion for me is to express oneself – not just simply following trends – your own personality is the key.
…I'll keep you updated!